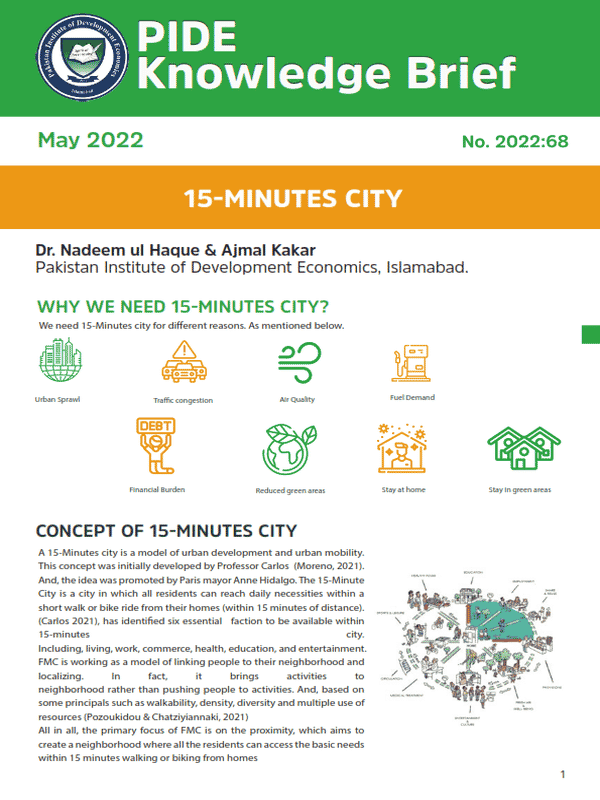 PIDE Knowledge Brief No. 68:2022
Thanks to Dr.Nadeem ul Haque, Vice chancellor PIDE for suggesting the topic
Why we need 15-Minutes City?
We need 15-Minutes city for different reasons. As mentioned below.
Urban Sprawl
Traffic congestion
Air Quality
Fuel Demand
Financial Burden
Reduced green areas
Stay at home
Stay in green areas
CONCEPT OF 15-MINUTES CITY
A 15-Minutes city is a model of urban development and urban mobility. This concept was initially developed by Professor Carlos  (Moreno, 2021). And, the idea was promoted by Paris mayor Anne Hidalgo. The 15-Minute City is a city in which all residents can reach daily necessities within a short walk or bike ride from their homes (within 15 minutes of distance). (Carlos 2021), has identified six essential   faction to be available within 15-minutes city. Including, living, work, commerce, health, education, and entertainment.
FMC is working as a model of linking people to their neighborhood and localizing. In fact, it brings activities to neighborhood rather than pushing people to activities. And, based on some principals such as walkability, density, diversity and multiple use of resources (Pozoukidou & Chatziyiannaki, 2021)
All in all, the primary focus of FMC is on the proximity, which aims to create a neighborhood where all the residents can access the basic needs within 15 minutes walking or biking from homes
© 2023 Pakistan Institute of Development Economics