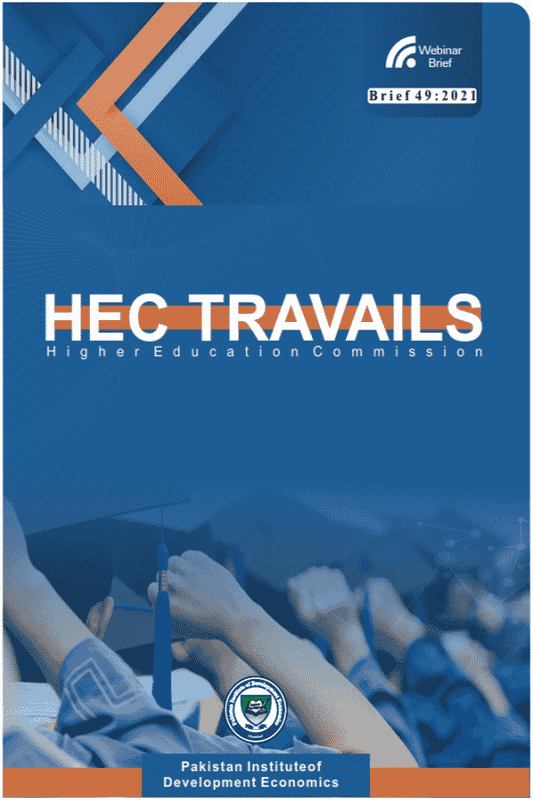 HEC TRAVAILS
 PART – I
Key Messages 
Prof. Pervaiz Hoodbhoy
The situation of Pakistani universities is unprecedented. The present education system is in a state of pathetic decay in terms of the basic knowledge that is carried by professors, associate professors, assistant professors, lecturers, and moving upwards deans and vice-chancellors.
The most important reason for the decay at universities is the HEC. In 2002, HEC started a program of rewards based on many papers and publications which distorted and corrupted the higher education system to a point where it has become unrecoverable.
The only way to repair the damage caused by previous policies is to abandon the policy of reward based on the number of publications. We need to concentrate upon undergraduate education because it is their base for the sound learning of students.
Dr. Arshad Ahmed
Certain principles are crucial for the success of any institution. The education system is not an exception to those principles. A few of these rules are as follows:
We need to make education our priority and develop a culture of love for knowledge. We need to strengthen skills of learning where learning is defined as a curiosity, asking questions, being unafraid, and taking risks which seems to be missing in Pakistan.
Secondly, we need to apply merit and ensure performance-based promotions at all levels.
The third principle for a sound institute is the underlying goal or purpose of a commission. These goals are reflected by the main functions of an institute. Three essential functions that are required in the education system of Pakistan are:
o   The first function of a commission is its distributive nature. It may act as an intermediary for funding and competitive grants.
o   The second point is autonomy which means sacrosanct of the institution. Higher education must stand on its own feet and must be guided by high standards.
o   The third aspect is quality. We have to identify the grey areas. It's not all completely downtrodden and rotten. We can learn from what has been done in the past. It can give us a sense of a way forward
We need a prime minister of education who believes in education, who wants to invest in education, who is open to hearing not from the insiders who are feeding him misinformation. 
Prof. Iqrar Ahmed Khan
The political expediency is a serious challenge in the autonomous functioning of HEC. We should focus our energy to make sure that higher education, particularly the universities, don't become another set of state-owned enterprises like PIA, steel mill, and railways. To bring improvement and efficiency in the HEC, there should be a periodic review and we should adjust our priorities.
There is a tendency that every time a new person or new government comes in, they think everything done in the past was wrong and they're going to start it over. There is a clear case of lack of continuity. HEC should be allowed to remain free of reinvention. It should be allowed autonomy and continuity.
The goals and aims of HEC should be independent of any influence. Goals should be set in the greater interest of science and technology, indigenous knowledge, and for creating knowledgeable and skilled human resources. The solutions should be indigenous that can address our economic needs and adapt to our society.
HEC should be allowed to function the way its original ordinance or act was enacted and if these amendments are withdrawn, we should lobby for them.
The commission is meant for new ideas and new adjustments. The commission should be allowed to deliberate and come up with solutions instead of solutions being sent in or through armed twisting and intimidation.
Dr. Anita M. Weiss
The HEC has become embroiled in politics. People who've been on the outside have embroiled it in politics which is deeply unfortunate. In the United States, instead of an HEC, there are disciplinary organizations that rank departments but that doesn't mean that they rank universities. There are organizations of universities in the US. For instance, the Association of American universities is made up of 64 of the top universities in the United States. The criteria for ranking depend on a range of issues like faculty-student proportions and other opportunities.
HEC Travails Part-II
Arshad Ali
At the time when HEC was established, it performed the role of facilitation for higher education. Tasks like funding, faculty development program, and promoting quality of education and research were performed well but the element of time to time review of policies was missing which resulted in strengthening the authoritarian approach on part of HEC.
HEC functions are regulated by the commission which consists of members from universities and government bodies. HEC is only on the execution end.
The primary role of universities is excellence in teaching, which are unfortunately assessed wrongly by parameters like several publications. Another function is the innovation which is analyzed through research but due to the lack of a unified system of evaluating the teaching and research both are heedless.
There is an accreditation body in every country of the world. The amalgam of the public and private sectors is also around the world. The role of regulatory bodies like HEC is paramount.
HEC may provide support only when needed. Ph.D. qualities can be improved through review instead of dismantling the institutions.
HEC should function on the need-based and role-based approach instead of the cookie-cutter approach, introducing ORIC-like wings everywhere, and regulate accordingly.
Shahnaz Wazir Ali
We may step back and take a look at the political economy of education. Tertiary education was financed by the government at the beginning by the money people give in form of taxes but later on, the private sector emerged as a competitor. It's not about the authoritarian control of the government in education, rather there should be certain rules and regulations.
Government finance universities immensely, there must be accountability as well. If you want the university to function independently then they should finance themselves.  If we use state money, there should be some organization or commission to account.
At the time HEC was established it was meant to be a professionally run and standard-setting regime. Reforms are required to finance, based on performance and quality of education. HEC has members from provinces, therefore, this is not a federal but a national institute.
Everyone is accountable, we cannot put all the blame on HEC. We see that there are many world-class institutes in Pakistan. We need to look at all 225 institutes of higher education in Pakistan at present and assess the maturity level of universities.
We may introduce a tier system and evaluate based on certain rules. If institutions are up to standards, then give them liberation to function independently.
HEC should provide space to strengthen and re-think instead of shutting the institute.
Many top-notch universities do not need HEC recognition. We need rational regulation.
HEC focuses on the physical building, not the software needed. The brick and mortar concept should be abandoned.
Shahid Kardar
We have a bureaucratic decision-making system which is not considering the opinion of stakeholders. Post 18th amendment make it mandatory for the education commission to present a performance report to the parliamentary committee
The function of funding is transferred to the provinces due to which HEC has no significant power to monitor performance.
We need to revisit the need for establishing HEC, re-write the objectives. The board of HEC should have operational autonomy and perform responsibility to develop the criteria, mechanism for policy measures, the instrument that structure the institutions, assess the achievement of these goals, and get them cleared by parliament, legislation is also required. There should be presentations by HEC to the relevant parliamentary committee periodically.
Why do university degrees need to be attested from HEC? We need to create an environment of knowledge and skills building.
Concluding Remarks by Dr. Nadeem ul Haque
We have a brick-and-mortar fascination. In developed countries, higher education is a very diverse enterprise. They have different strengths, different opportunities, different departments and they break fresh ground all the time but it requires accommodating self-built people. Unfortunately, in Pakistan, we have no room for quality which is paramount in research. It is the bureaucracy that decides quantity, and we are following it. It is needed to take regulation into account and think about it.
© 2023 Pakistan Institute of Development Economics