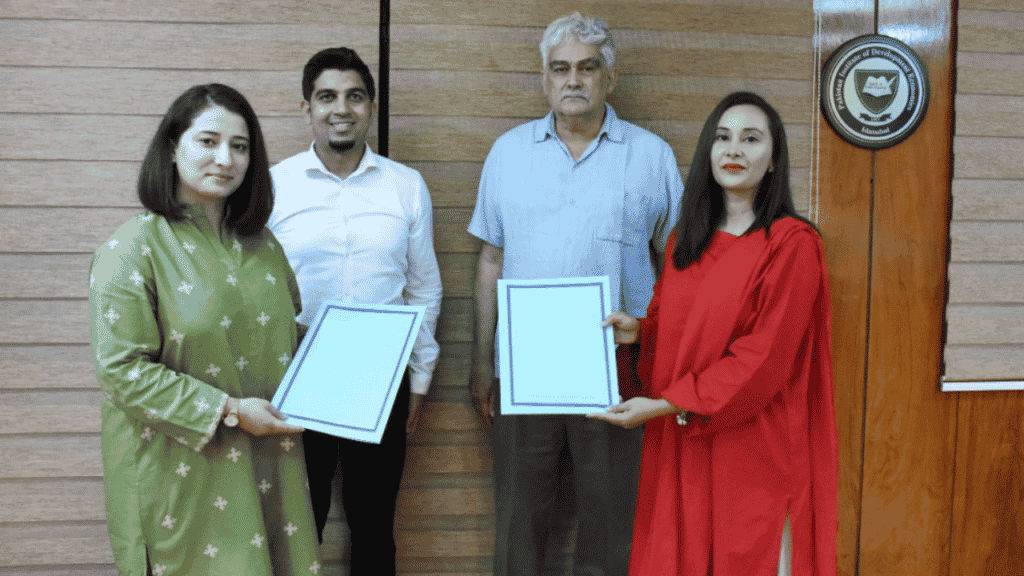 ProPakistani, Pakistan's largest independent digital publisher, and Pakistan Institute of Development Economics (PIDE), a premium post-graduate research institute and a public policy think tank, have entered into a strategic partnership.
The agreement was signed at the PIDE campus located inside Quaid-e-Azam University, Islamabad. Bakhtawar Mahmood, Head of Strategic Communications at ProPakistani, and Shalar Ali, Media and Communication Specialist at PIDE, signed the agreement.
Also in presence was Dr. Nadeem Ul Haque, VC PIDE who is an eminent economist and a former Deputy Chairman of the Planning Commission, besides other officials from both organizations. The partnership will entail mutual efforts to narrow the corporate-academia divide and promote strategic two-way support.
"We are delighted to have joined hands with an esteemed institution like PIDE to help bridge the corporate-academia gaps that exist today," shared Aamir Attaa, Founder & CEO of ProPakistani. "It will also be helpful for the economic understanding of the Pakistani masses who largely face a disconnect from the system they're an integral part of."
"We are excited to partner with Pakistan's leading digital publisher and hope that the collaboration will accomplish the mutually desired goals," said Dr. Nadeem Ul Haque, VC PIDE.
"We share our passion to educate the Pakistani masses on important economic concepts with ProPakistani and hope this partnership to go a long way for the future of Pakistan's economy. With such strategic mutual support, we can reach great milestones."
Besides close collaboration with PIDE academia and students for better cohesion of the corporate and academic worlds, ProPakistani will also help identify problem areas whereby PIDE's research can be implemented or proposed.