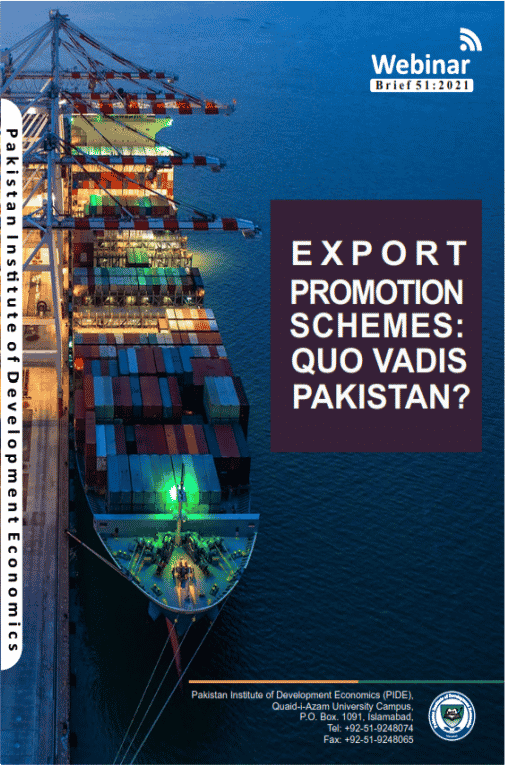 Export Promotion Schemes: Quo Vadis Pakistan?
Export Promotion Schemes: Quo Vadis Pakistan?
 Key Points
Pakistan has placed two export promotion schemes. These schemes have targeted products that have revealed a comparative advantage in Pakistan. Such as, almost 100 percent are targeting the footwear sector.
Anti-diversification is present, as the services sector is excluded from these schemes.
Higher rebate rates go to less sophisticated products. For rebate, there is a very limited allocation of funds, and the funds are allocated on a first-come, first-serve basis.
Two-third of product lines for the rebate is also eligible to receive an additional rebate of 2 percent for being exported to a non-traditional country.
These schemes are not trying to move firms to produce something new but they are supporting firms that are exporting something for a long time.
Pakistan ranks 99thout of 133 countries according to Export Control List (ECL), and 130th according to EXPY indicators[1].
To improve the export of Pakistan, all products should be focused on rather than targeted, and growth should be the focal point instead of index.
 Gonzalo Varela
Key Messages
The duty drawback of taxes and the drawback of local taxes and levies, are essentially export promotion schemes in the sense that the schemes target a specific set of the product that is going to be eligible for a rebate. The percentage of rebate depends on the product exported (2%, 3%, and 4%), the destination reached (an additional 2%), and the growth of exports to the previous period. Then the exporter is going to receive the full amount and if not then it's going to receive half.
The disbursements have been relatively slow but lately, they have been accelerating a little bit. From 1stJuly 2018 to 30th June 2020 there were 225 million dollars that were disbursed, but in fiscal year 21 there was an additional 43 million in disbursements and these disbursements have continued happening but not all eligible exporters have received the incentive.
There are few objectives of these schemes. The firstobjective is related to growth. Therefore, these schemes target products that have revealed comparative advantage in Pakistan and products that are exported by the larger exporter. However, the eligible product tends to face lower global demand, with destination premia targeted to low potential destinations in terms of exports. The second objective is related to diversification. These schemes are pro-incumbent and anti-diversification in terms of sophistication. Analysis shows that less sophisticated products exist in the export bundle of Pakistan and also higher rebate rates go to less sophisticated products. There is no evidence that these schemes target the water-intensive product and bias on the energy-intensive product. So there are high fixed costs of applying these schemes, which makes it cheaper for larger, more sophisticated exporters to apply and succeed in receiving the rebate. The first come and first serve policy is a problem because smaller firms are a bit slower than larger firms even if they are eligible.
These two schemes tend to target products with revealed comparative advantage and, in the case of DDT, products for which exporters tend to be large but they also target products with low demand growth and destinations with low potential.
There are about 7531 varieties of products Pakistan could export, out of which only 4689 products are exported by Pakistan and only 1260 are eligible for rebate. Policies should be designed to push products that are not being exported by Pakistan. These schemes tend to target established products. Established products are products in which Pakistan has a global presence and that are exported by many firms. More incentives would be paid to sectors that produce products that are more at risk of carbon leakage. About 89 percent of eligible manufacturing products are at risk of carbon leakage, versus 77 percent of non-eligible products.
Way forward
To make these schemes conductive and to improve export performance we would recommend;
Increase the scope of eligibility of this incentive to include the services sector and new products. Reduce the dispersion and average rate so this doesn't become a fiscal burden.
instead of rewarding the level of export, reward the growth in exports.
Simplify through digitalization and automation, the claiming process, to ensure smaller firms have an equal footing to claim the scheme.
Systematic data should be collected on export performance of recipients and non-recipients (although eligible) with disbursements of DDT and DLTL and conduct regular impact evaluations of the schemes.
If the nature of schemes is a duty of drawback, then these schemes shouldn't be targeted. These schemes target specific products that is one of the flaws of these schemes. The objective of these schemes is to promote exports rather than compensating. The exchange rate has been artificial for many years. Pakistan hurts the export sector a lot because the export sector needs a competitive exchange rate to function efficiently.
 Ehsaan Malik
Key Messages
Exports promotion schemes are not well-targeted. There is more scope to digitize and make the process easier.
Pakistan's domestic industry has failed to gain competitiveness and eligibility for exports due to higher input costs in the region. Energy price is 60 percent more than the neighboring county, labor productivity is only about 30 percent which is doubled in Bangladesh, and land cost in Pakistan is quite higher in the region.
Pakistan's reliance on the low value-added spectrum of textiles is highest. Pakistan ignores the markets in Africa, Central Asia where there is a high growth potential because these are the risky regions.
Pakistan rebate is not sufficient to cope up with 70 plus levies that the average Pakistani business encounters.
Way forward
We need to work out per unit based on a rebate as opposed to a percentage of the export value rebate as India has done.
It is not the government's job to pick products to export. We can divide the structure of these schemes by compensating for the taxes that have been imposed and be competitors with the eyeball comparators.
 Ghulam Qadir
Export diversification is necessary and a scheme should be designed to incentivize not only product diversification but also geographical diversification.
80 percent of our exports are affected by the subsidies.
Lack of exports has been one of the reasons that Pakistan doesn't have sustainable growth.
The Tech sector of Pakistan is being neglected which can move in the long term.
[1] Indicator to measure the productivity of a country's exports.
© 2023 Pakistan Institute of Development Economics