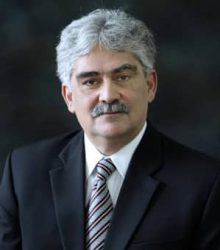 Can we all agree that the PSDP is the tax payers contribution and that politicians should have nothing to do with it. Enough raiding PSDP?

— Nadeem Haque (@nadeemhaque) January 25, 2023
With a Ph.D. in Economics from the University of Chicago, Dr. Nadeem ul Haque is currently the Vice Chancellor of Pakistan Institute of Development Economics, Islamabad. He also served as the Deputy Chairman, Planning Commission of Pakistan from 2010-2013. He has wide ranging operational experience in policy development and economic planning. Apart from his work in Pakistan, Nadeem ul Haque worked for the International Monetary Fund for 24 years. During his long and illustrious affiliation with the IMF, he implemented public structure reform in Sri Lanka and worked in two central banks to organize a modernization effort, which included improvements in the monetary framework and the policy formulation process. Dynamic yet easily approachable, Dr. Nadeem-ul-Haque is also a published author with five books and over fifty articles in various publications to his credit. He has a great vision for the economic sector of Pakistan and wishes to extensively work towards sharpening domestic debate and raising awareness on the local front.